Skip to Content
Boost the Elegance of Your Englewood, NJ home with Replacement Windows and Doors
Do you love living in a beautiful home? If you want to create a comfortable, stylish, and safe place for your family, you need to make sure that you have a home built with quality materials and products. The quality of your doors and windows will have an impact in many ways on the overall appearance and function of your Englewood, NJ home.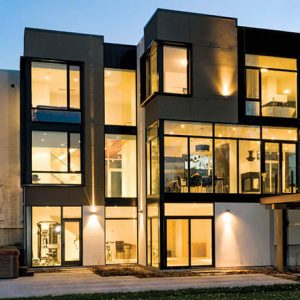 Here at Home Supply Window & Door, we are experts in the industry. Our team knows the best products to create the home of your dreams. We are here to answer your questions, listen to your concerns, and make recommendations for your family. When you are ready for the perfect finishing touch for your home, we invite you to talk to us about the benefits of replacement windows and doors.
Why You Should Invest in New Doors and Windows
Is it the right time for you to make these upgrades in your home? Each home is unique, and the timing varies depending on the age of your home and the quality of your doors and windows. Instead of rushing into the decision, it is a good idea to schedule a consultation with our experienced team to learn more.
Here are some of the reasons why people decide to invest in replacement doors and windows:
Boost the Style: An old home doesn't need to look worn and run down. Instead, you can make a few upgrades to modernize the property and transform the style of each room. If you are tired of living in an old home, don't assume that you need to move to upgrade your lifestyle! Instead, make the right investments in new doors and windows to transform the appearance of your Englewood, NJ property.
Energy Efficiency: People are increasingly aware of the importance of energy efficient products. They want to make small changes to have a positive impact on the environment. The energy efficiency of your home is a great way to contribute your small part to the health of the planet. Consider installing insulated doors and windows so that you can decrease your energy usage and help protect the earth.
Decreased Utility Costs: As you improve the energy efficiency of your home, you will notice that your utility bills will go down. Decreased energy usage makes it easy to cut your monthly costs. This strategy will help you to manage your family finances and still enjoy the benefits of a modern, comfortable home. Upgrade the windows in your home if you want a fast and effective way to improve energy efficiency.
Increase Property Value: Another financial benefit that you can expect lies in the value of your property. Even if you are planning to stay for a while, improving the value of your home will help when you are ready to sell in the future. The money that you spend on replacement windows and doors will have a direct impact on the overall value of your home.
Quiet Living Environment: How often do you hear the noises of the neighborhood when you are at home? It can be hard to relax if you always hear dogs barking, cars driving by, or neighbor kids yelling in their backyard. High-quality windows can offer a great way to make your home peaceful and comfortable. The insulated glass will block these noises so that you don't have to listen to everything that is going on outside.
Function of the Windows: If it is difficult to open and close the windows, it is an indication that you may need to invest in new products. Regular wear and tear can cause the windows to become stuck, making it hard to allow in the breeze when the weather permits.
You will be glad that you invested in replacement windows and doors! Not only will you enjoy these benefits, but you will see that there are many ways that your family will enjoy the home upgrades.
Getting Started with Your Home Renovations
Now that you can see the benefits of replacement doors and windows, the next step is to find a contractor that can help with the renovations. You need to hire a team that is trustworthy and experienced in the industry. Choosing the right contractor will give you the peace of mind to know that you will receive top-rated product and installation.
To get started, you need to schedule an in-home consultation with our team here at Home Supply Window & Door. We will come to your home, inspect the windows, and ask questions about your preferences. Then, we can make recommendations about the features and products that will match your requirements.
When you are ready for more information, call us at Home Supply Window & Door. You can visit our office at 160 Van Winkle Ave, Hawthorne, NJ 07506. Or call when you are ready for a consultation and proposal: (973) 949-5401
Providing Quality Windows and Doors to the NY Metro Area