Skip to Content
Fiberglass Window & Door Installation in NYC Metro Area
Home Supply Window & Door – The Fiberglass Specialists
When shopping for a new front door or windows, the primary function is to provide security and protection from anything outside, but you also want something that will look nice and match your home's style. Fiberglass windows and exterior doors are a popular choice for residents in the NYC Metro area for both of these reasons, and Home Supply Window & Door has the products and knowledge to help you choose the perfect fit. Our satisfied customers love working with our team knowing we are a one-stop-shop for all fiberglass windows and fiberglass entry doors with professional installation to finish your project. Please view our photo gallery to see the work we've done for local residents!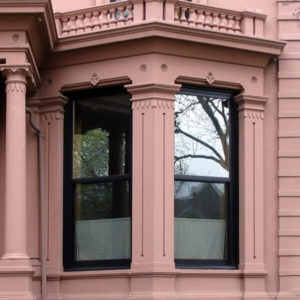 What Are the Advantages of Fiberglass Doors and Windows?
Material choice is going to be one of the first questions raised when shopping for a new window or door. There are a few options, and each one comes with its benefits and advantages over other products. So why consider fiberglass for windows or doors? Among the benefits are:
Energy Efficiency: Drafty doors and windows lead to a large amount of heat loss in the winter and let cool air escape in the summer. Fiberglass provides excellent insulation and seal tightly.
Security: Safety is critical for the comfort of everyone in your residence. When you go to sleep at night or are away from your home, you can take comfort knowing your door is reinforced with the strength of fiberglass and can include steel plates for added protection from a break-in.
Diverse Style Choices: Even when you settle on fiberglass, you have choice after choice after choice for the finish you want. From authentic wood grains to a protective multi-coat factory finish for low-maintenance upkeep, fiberglass has it all.
Durability: Fiberglass outperforms vinyl and wood when it comes to strength and durability.
Manufacturers of the Best Fiberglass Windows and Doors
If you've decided on fiberglass as your choice of material for windows and doors, you'll find a collection of products from the premier manufacturers in the industry at Home Supply Window and Door. Our team has decades of experience in home improvement product wholesale, and we've handpicked our partners to offer customers products that will last for years to come, no matter what style or brand they choose.
Kolbe Windows & Doors – Kolbe's Forgent fiberglass products are elegant and the perfect choice for any homeowner looking to make a grand statement. Including thoughtful design and Glastra® material, these fiberglass doors and windows stand the test of time.
Therma-Tru Doors: Therma-Tru is the leader in fiberglass entry doors that combines style with quality and security. It's one of the most popular choices among building specialists, and they've been designing exterior doors for more than half a century.
Shop the Best Selection of Fiberglass Windows and Doors
When shopping for fiberglass doors and windows in the NYC Metro Area, visit the showroom at Home Supply Window and Door. Not only will you find an incredible selection of door and window products from the top manufacturers in home improvement supply, but you'll be greeted by our friendly staff who can assist you throughout the entire process. From designing your perfect door to the professional installation, ensuring it's done right, our team of specialists is here to provide the best experience possible.