Skip to Content
Casement Window Installation Services in the NYC Metro Area
Count on Us for Expert Window Installation
Step into a world of sophistication and functionality with Home Supply Window & Door's premier casement window installation services in the dynamic NYC Metro Area. As seasoned experts with a collective experience of over 20 years, we bring a legacy of excellence to every casement window project. Our commitment to guiding you through the intricacies of window design, selection, and installation sets us apart. Contact us today to schedule a consultation and unlock the potential of your living spaces.
Casement Window Types
Home Supply Window & Door offers a variety of styles to cater to your preferences and needs. Our selection includes:
Crank Open – Our crank-out casement windows boast a convenient crank positioned at the bottom of the sash, making them easily accessible even in challenging locations. With a simple turn of the crank, you can open the window to your desired extent, allowing for efficient airflow to circulate throughout your living spaces. The handle folds down to give a sleek appearance and avoid entanglements with window treatments.
Push Out – For a sleek and modern interior appearance, our push-out casement windows feature a handle for effortless opening, eliminating the need for a crank mechanism. With a gentle push, these windows open seamlessly, providing unobstructed views and a low-profile design that complements contemporary aesthetics.
Inswing or Outswing – Tailoring to your layout and preferences, you have the flexibility to choose between casement windows that swing outward or inward. The optimal design depends on factors such as potential obstructions like exterior foliage or interior furniture, ensuring your windows integrate seamlessly into your space.
French – Elevating elegance, our French casement windows consist of two panels that open from the center, much like a pair of double doors. This design creates a seamless transition between indoor and outdoor spaces, offering unobstructed views and a touch of sophistication without a center post obstructing your scenery.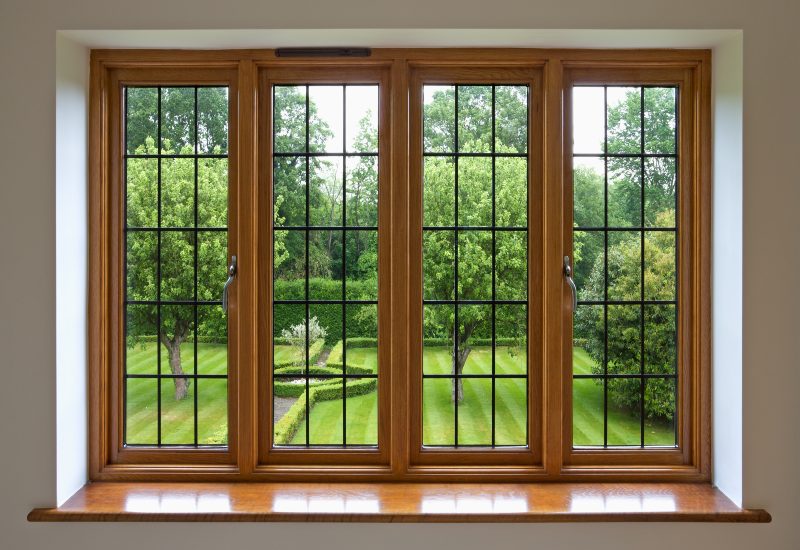 Our Casement Window Installation Process
At Home Supply Window & Door, our casement window installation process is meticulously designed to provide our valued customers with a smooth and hassle-free experience. We begin by understanding your specific requirements and preferences, assisting you in selecting the perfect casement windows that complement your home's style. Our experienced professionals then conduct precise measurements to ensure an exact fit for your openings. During installation, we prioritize accuracy and attention to detail, ensuring that your new casement windows are seamlessly integrated into your home's architecture.
Advantages of Casement Windows
Casement windows offer a range of advantages that enhance both the aesthetics and functionality of your living spaces. Explore the following benefits to discover why casement windows are a popular choice for homeowners:
Excellent Ventilation – Casement windows provide exceptional airflow control. Their design allows you to fully open the sash, directing fresh air into your home, making them ideal for promoting natural ventilation and a refreshing indoor environment.
Unobstructed Views – With no center divider obstructing your view, casement windows offer expansive, uninterrupted views of the outdoors. This design provides a clear line of sight, allowing you to fully enjoy your surroundings and maximize natural light.
Energy Efficiency – When closed, the snug seal of casement windows helps minimize air leakage, reducing drafts and enhancing your home's energy efficiency. This can lead to improved insulation and potential savings on heating and cooling costs.
Enhanced Security – When closed and locked, casement windows offer a high level of security. Their hook-shaped locks embedded within the frame make them difficult to tamper with from the outside, contributing to the safety of your home.
Versatile Styling – Available in various materials and finishes, casement windows complement a wide range of architectural styles. Whether your home is traditional or contemporary, casement windows can be customized to match your design preferences.
Easy Maintenance – Casement windows are designed for convenient cleaning. Their outward-swinging sash allows easy access to both sides of the glass, enabling you to keep your windows looking pristine without the need for elaborate maintenance routines.
Contact Home Supply Window & Door
Elevate your living spaces and harness the beauty of casement windows with Home Supply Window & Door. Our legacy of expertise and dedication ensures a flawless installation process that seamlessly combines aesthetics and functionality. Whether you're modernizing your home or embarking on a new project, our casement windows offer a touch of elegance and exceptional performance. Don't miss out on the opportunity to enhance your surroundings. Contact us today for a consultation, and let's embark on this journey to redefine your windows and elevate your lifestyle.
Providing Quality Windows and Doors to the NY Metro Area