Skip to Content
Tilt-Turn Windows in the NYC Metro Area
Expert Tilt-Turn Window Installation
Discover a new level of functionality and elegance with Home Supply Window & Door's exceptional tilt- turn windows, serving the vibrant NYC Metro Area. Our tilt-turn windows represent a fusion of cutting-edge design and practicality, allowing you to enjoy versatility in ventilation and ease of cleaning like never before. Whether in Manhattan, Brooklyn, Queens, or any other borough, we bring these premium European-style windows to your doorstep. Contact us today for a free consultation and bring the future of window technology to your home.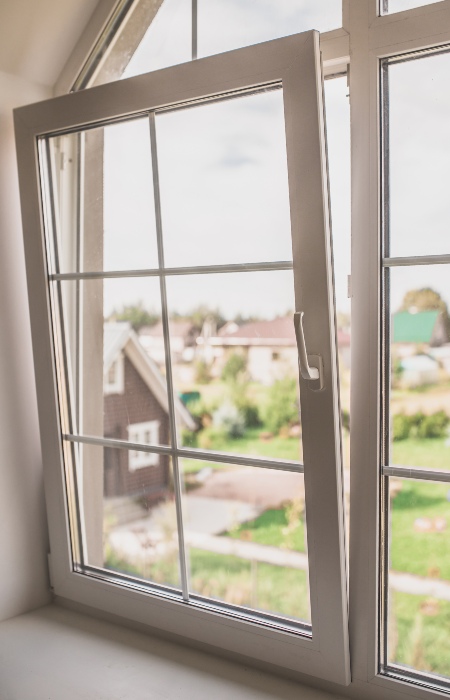 What are Tilt-Turn Windows and How Do They Work?
Tilt-turn windows are a versatile and innovative design that offers a unique combination of functionality and style. These windows can turn inwards like a door or tilt inwards from the top, providing you with two distinct modes of operation. When in the tilt position, they allow for secure ventilation without fully opening the window, making them ideal for homes where safety is a concern or for areas with limited exterior space. They function like a traditional inswing casement window in the turn position, allowing for maximum airflow and easy cleaning. The mechanism behind European tilt-turn windows involves a handle controlling the window's operation: turning the handle 90 degrees allows the window to swing open, while a 180-degree turn tilts the window inwards. This dual functionality enhances your home's energy efficiency and security and adds a modern and sleek aesthetic to your living spaces.
Advantages of Tilt-Turn Windows
Tilt-turn windows offer a range of advantages that make them a popular choice for homeowners. From energy efficiency to peace of mind, here are some key benefits offered by our expert team:
Energy Efficiency
Tilt-turn windows are designed with a tight seal when closed, effectively preventing drafts and heat loss. Their dual functionality allows for controlled ventilation, helping to maintain a comfortable indoor climate and potentially reducing energy bills.
Tight Seal
Tilt-turn windows have multiple seals, helping eliminate air infiltration, making them the window type of choice for Passive House and Net Zero applications.
Security
These windows provide enhanced security due to their multi-point locking system and robust frame construction. When in the tilt position, they allow for ventilation without compromising safety, making them a secure choice for any home.
Ease of Cleaning
Adjusting tilt-turn windows provides easy access to the exterior glass from the inside. This feature simplifies the cleaning process, especially for windows on upper floors or hard-to-reach places.
Versatility
Their dual operation allows you to control the level of ventilation in your home. You can tilt the window slightly for gentle airflow or fully open it like a casement window for maximum ventilation.
Why Choose Home Supply Window & Door
Don't miss the opportunity to transform your living spaces with the unmatched functionality and style of tilt-turn windows from Home Supply Window & Door. As your trusted partner in window solutions across the NYC Metro Area, we're committed to enhancing your home's aesthetics, energy efficiency, and security. Make the smart choice today and experience the difference. Contact us now to schedule a consultation and let our experts guide you toward the perfect tilt-turn windows for your NYC home.
Providing Quality Windows and Doors to the NY Metro Area