Skip to Content
Do You Need Replacement Windows and Doors in New York City, NY?
As a homeowner in New York City, NY, it is fun to live in the hustle and bustle of the big city. Home prices are high in the area, giving you an opportunity to maximize your investment by spending a little money on home renovations. A few small changes in your home can go a long way to improving the appearance and function of the property.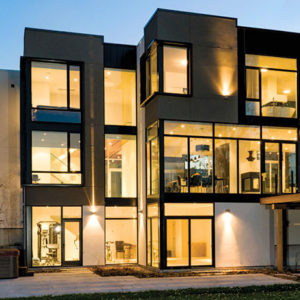 Here at Home Supply Window & Door, we offer the very best in replacement doors and windows. We want to be sure that you love the results after we are done with the installation. So, our team will gladly talk to you about the options that are available, helping you to pick the products to meet your needs.
It is important that you choose a contractor you can trust. The quality of this service will impact your home and improve your lifestyle. Before you rush into the decision, make sure that you have a conversation with an experienced installation team.
During this consultation, we will inspect your windows and determine if it is time to install replacements. These are a few common reasons why homeowners choose to invest in replacement windows:
Replace Old, Broken Glass and Frames
If you have windows that are broken or cracked, then you need to replace these windows as soon as possible. Even if the crack seems like a minor problem, it could potentially lead to bigger issues in the future. For example, a small crack could bring in moisture when it rains or snows outside. Then, that water can lead to mold growth and water damage on the walls around the window. If you are dealing with these types of problems, then you will need to invest a lot of money into cleanup and renovations for your property.
It is important that you take fast action to repair broken windows as soon as possible. The new windows will not only keep your family protected, but they will also impact the overall comfort of your home.
Protect the Environment
Are you doing your part to protect the environment? Homeowners don't often realize how much their daily activities impact pollution and the use of fossil fuels. Low-quality windows make it hard to minimize your carbon footprint.
When you have old windows in your home, then they are bringing in drafty air and increasing the time that the heater or air conditioner runs. As a result, you use more energy during the day. You will notice that your utility bills go up, making it hard to control costs and maintain a comfortable temperature inside.
Replacement doors and windows are a great solution if you want to upgrade your home with energy efficient features. These products block the thermal transfer and offer better insulation for your living space. Even though it seems like a small change, new windows and doors can go a long way to help you cut back on pollution.
Financial Benefits of Replacement Doors and Windows
The cost of living in New York City, NY is high, so it makes sense that many people are looking for ways to decrease their monthly expenses. These energy efficient upgrades help to reduce the amount of money that you are spending each month on utilities.
At the same time, you can also enjoy financial benefits in the improved value of your property. When an appraiser comes to look at your home, they will see the new doors and windows and adjust the price to match the upgrades. Spending a little money right now can go a long way to help you maximize your family finances.
Protect the Security of Your Home
Some people are worried about living in the city because of the risk of crime. But, just because you are living in a big city, doesn't mean that your family needs to be at risk. Look at the quality of the entry points in your home, including the doors and windows. If old materials are still in place, then your home could be targeted by unwanted intruders.
Modern windows and doors are designed with excellent security features that will keep your home protected. Not only do you have great locks, but the materials are built to withstand forced entry.
Enjoy a Quiet Home Environment
One of the drawbacks to living in the city is the constant sound of noises outside. If you always hear the trains or cars driving by, then you should consider the benefits of windows that help to sound proof your living area. Double or triple paned windows help to insulate your home, and you will notice that it is quiet inside regardless of the noises happening outside.
When it is time to replace the windows and doors in your New York City, NY home, then you need to talk to the experts here at Home Supply Window & Door. We are located at 160 Van Winkle Ave, Hawthorne, NJ 07506. Or, you can call to schedule a consultation: (973) 949-5401
Providing Quality Windows and Doors to the NY Metro Area