Skip to Content
Most Common Questions We Get About Fiberglass Windows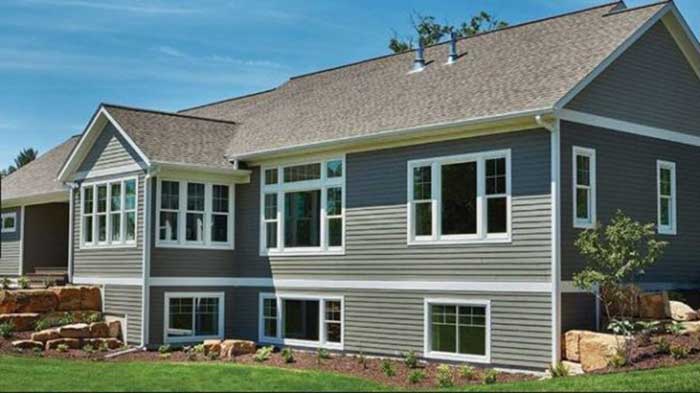 Compared to wood, vinyl, and aluminum, fiberglass windows are used on relatively few houses. By consumer standards, fiberglass windows are still considered a niche product. But by industry standards, fiberglass surpasses the other window materials in strength, aesthetic, durability, and longevity. So to homeowners understand a little more about these fairly new products, here are some common questions we get from customers about fiberglass windows:
Contact Us
How are Fiberglass Windows Made?
There are several different applications for fiberglass. And the construction depends on the product. Fiberglass windows are created through a pultrusion process. Strands of fiberglass are woven together and pull through a resin bath then pulled through a heated die that helps cure the resin. What emerges from the other side is a smooth, rigid lineal that is cut into lengths, coated, and fitted together.
Do Fiberglass Windows Need to be Painted?
The powder-coat finish on fiberglass windows is nearly indestructible. The heat and pressure in the bonding process make the finish durable and maintenance free. It does not fade. So while new fiberglass windows do not need to be painted, you can refinish them when you decide to switch up the color. They will take a coat of paint, just like natural wood.
What is the Maintenance for Fiberglass Windows?
These windows do not warp, rot, chip, or fade. They require very little in the way of maintenance. To keep them looking new all you need is a little water, mild detergent, and a soft cloth. On occasion, you should also clean and lubricate the tracks to keep your Windows operating like new.
Are Fiberglass Windows Strong?
The fiberglass windows used for windows are not brittle. Truth is that fiberglass is eight times stronger than vinyl. Unlike wood and vinyl, fiberglass windows expand and contract at the same rate as the glass, which allows it to stay put with the seals intact. That is why fiberglass windows can last thirty years or more without seal failure and without the need for replacement. Fiberglass is also virtually impervious to rain, ice, snow, and UV rays.
Do Fiberglass Windows Insulate Against Heat Transfer?
Fiberglass has low conductivity, which makes it a great insulator. And because of the minimal expansion and contraction rates, the seals remain tight, which eliminates the possibility of air leaking in or out through the cracks. Also, fiberglass windows often have a wood core to help improve insulation.
Are Fiberglass Windows Expensive?
Compared to other window materials, fiberglass windows are more expensive. That said, you have to consider the value you get with fiberglass windows. They can outlast other window materials and you get what you pay for.
If you have more questions about fiberglass windows contact us at 973-949-5401. The experts at Home Supply Window & Door can provide detailed product and design knowledge to make sure you get the right replacement windows for your project. Visit us at 160 Van Winkle Ave, Hawthorne, NJ 07506 to see some of our high-quality products first hand.